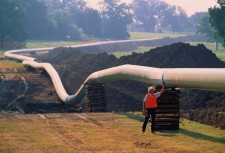 New on-site or online API 1169 exam preparation course for pipeline inspectors in high demand according to Atlas API Training
Houston, TX, March 7, 2017 (Newswire.com) - The critical API 1169 training course for pipeline inspectors was announced by Atlas API Training – the exam prep course is available both online and now via Atlas' new on-site training program. According to Hannon McLeod, president of Atlas, "the API 1169 will deeply impact the career paths of many inspection professionals, new pipeline construction projects, and pipeline safety margin both in North America and overseas." The program is valuable in certifying qualified, knowledgeable pipeline inspection professionals and helps new inspection entrants establish their credentials in the inspection field. The certification exam is also offered internationally.
The API 1169 improves the safety of  pipeline operation by providing the stringent requirements for competency based on experience and education of the inspector. Candidates must have a strong command of relevant codes and standards necessary to perform inspection activities during construction of new onshore pipelines. This certificate adds significant value to one's professional credentials. It shows employers and clients a high level of proficiency and understanding in the field.
Atlas API Training offers online and on-site API exam prep courses including API 510, API 570, API 653, API 580, API 571, API TES, API 936, API 577, and CWI. Customized inspection and maintenance of piping and equipment instruction is offered Atlas as requested by customers. 
About Atlas API Training
Established in Houston in 2014 by Hannon McLeod and Oran Lewis, Atlas API Training provides online and on-site petro-chemical and power industries exam preparation courses for advanced industry certification.   Over the past two years Atlas has received multiple requests to expand their offering of advanced API certifications and is now developing additional industry specific training courses that will soon be available.
Our online and on-site training courses are designed to give students the best opportunity to pass the critical certification exams. All courses are frequently updated to reflect the most current industry specific changes and testing parameters. In the effort to service the ever-increasing demand for on-site instruction, Atlas API Training has also expanded their instructor recruitment program. Contact hannon@atlasapitraining.com.
Source: Atlas API Training
Share: